Zender v3.3.4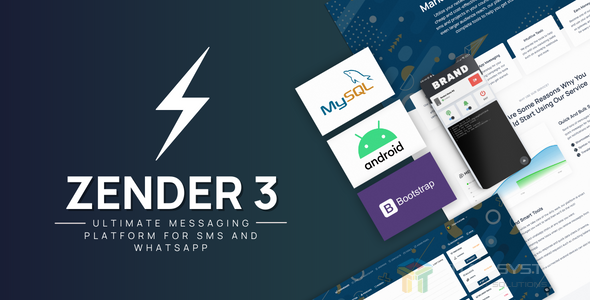 We are pleased to announce the release of our latest version, aimed at addressing several bugs identified in v3.3.3, while also introducing exciting new features. The update can be downloaded in the official repository on GitHub or in your CodeCanyon profile page.
We are delighted to inform you that the updated version now supports the receiving of WhatsApp attachments and added the sending of priority WhatsApp messages. When sending a priority message, it will be immediately dispatched without being added to the queue. However, we kindly advise caution in utilizing this feature excessively, as there is a risk of being banned if it is abused. We recommend reserving the use of priority messages for important communications when waiting in the queue is not feasible.
In addition, we have made significant improvements to the WhatsApp server for Windows. A new desktop application has been developed, allowing for a user-friendly experience without the need for any terminal interactions. Moreover, the application can be minimized to the Windows tray, enabling seamless background operation.
For Linux users, it is essential to update both the WhatsApp binary and storage folder. Please follow these steps to ensure a successful update:
Upload the new binary to your server, overwriting the previous version.
Upload the storage folder to your server. It is not necessary to delete the old storage folder; simply overwrite its contents.
Execute the following command: 

sudo chmod +x ./titansys-whatsapp-linux

If you are utilizing the autorun script, restart your WhatsApp server by executing the command: 

sudo pkill -f whatsapp
To update the WhatsApp server on Windows, we have prepared a new video guide for your convenience. Please refer to the following link: https://docs.titansystems.ph/zender/getting-started/whatsapp-server/#video-guide_1
If you wish to retain the previously connected accounts, please copy the storage folder from your old WhatsApp server and overwrite the new storage folder in the new Windows server.
To accommodate the new priority sending feature, we kindly request that you delete any currently running WhatsApp campaigns and pending messages on your Zender dashboard. Also, you don't need to rebuild your gateway app for this update.
Changelog v3.3.4
Added WhatsApp priority sending
Added the ability to receive WhatsApp URL messages
Added the ability to receive WhatsApp attachments
Fixed autoreply bug
Fixed brazil number bug on SMS
Fixed WhatsApp scheduled bug on shortcodes
Fixed an issue on the WhatsApp server for Windows
Refactored sender cron job
Refactored WhatsApp campaign status monitor